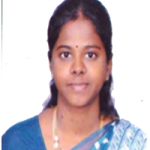 Area Specialization
BIOTECHNOLOGY, BIO-MEDICAL INSTRUMENTATION SCIENCE
Special Achievements
1. Life Member of ISTE.
2. Involved in the activities of National Service Scheme as Programme Officer for Unit – II in the year 2014
3. TEQIP Procurement Assistant Nodal Officer in 2018.
4. TEQIP Procurement Nodal Officer from 29.06.2019.
5. Faculty in – charge for ATAL Institution ranking from 06.09.2019
6. Department Stores in-charge.
7. Squad member for Anna University examinations.
8. QP setter for Anna University
9. Appointed as Autonomous External examiner, valuation, QP setting and QP verification.
10. Hall superintendent for TANCET examinations.
11.TNEA – Certificate verification process.
12. Appointed as Syllabus committee member for Diploma in Biomedical Engg, Vanavasi Polytechnic College, Vanavasi.
13. Member of Internal Audit.
14. BOS member.
15. Published papers in one National Journal, 2 International Conferences and 3 National Conferences.
16. Actively participated in the preparation of Video Modules of Processes in Industries for the purpose of offering Virtual Internship under TEQIP - III to UG students during COVID 19 lock down period.