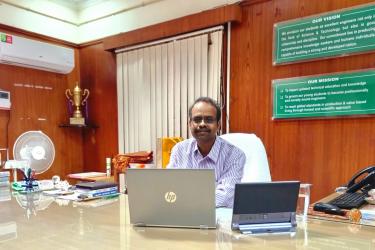 "By Education I mean an all round drawing out of the best in child and man-body, mind and spirit" - Mahatma Gandhi
 The ultimate goal of education is the discovery of the meaning of life and the fulfillment of life and all mankind as well as for oneself.
Government College of Engineering, Salem not only focuses on the theoretical curriculum, but also concentrates in the development of a student personality, extra-curricular activities and over all perspective. With experienced and dedicated teachers and excellent infrastructure, our Institution helps students to realize their goals in life.

I firmly believe that our Institution is more than just a place to learn. It gives you a chance to grow by equipping with everything you need to achieve excellence.Hard work, dedication and perseverance are the most important traits in a person that lead to success. The future belongs to you; your need, therefore, is to prepare yourself for an active participation in the world.
 Remember "The reward of every good action will be good only".
I wish all the students a grand success in their career and prosperity in their future life.
Dr.R.Malayalamurthi M.E.,Ph.D
Principal